Are You About to Graduate From High School? Heres How to Decide What Career Path to Take
Posted in :
Home
on
by :
Rad Center
Comments: 0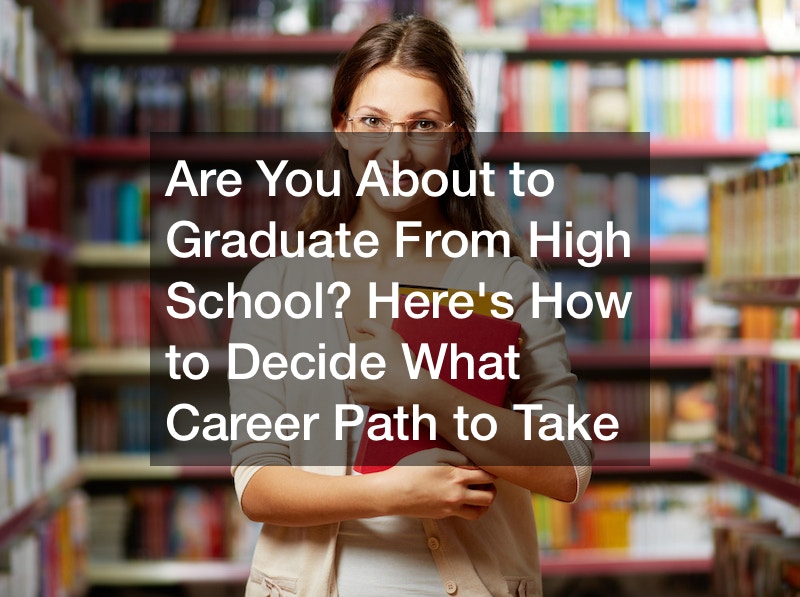 It can be difficult to decide what career path to take — there are so many options and so many factors to keep in mind, such as salary, requirements, and more. If you're graduating from high school soon and need to choose a career path, you may feel like you're under a lot of pressure.
Although no one else could (or should) make this decision for you, you can take advice from others on how to decide what career path to take. With sound advice in your mind and your hopes and dreams for the future in your heart, you can choose a career that will leave you happy and feeling fulfilled.
Remember, this is an important decision, so take your time and think about it carefully so you don't make decisions you will regret.
Understand Yourself
Before you can understand how to decide what career path to take, you need to understand yourself. The things you enjoy doing and the things you value can help you make a good career choice. Your hobbies, passions, and values can indicate what kind of job would make you happy.
Think about your personality as well. Do you enjoy working outside, or do you prefer being inside? Do you take pleasure in mental labor, or is physical labor more fun for you? Do you want to spend your working hours helping others, or would you prefer being buried in books and research?
Every aspect of who you are and how you see the world will influence what kind of career you will find the most happiness in.
Consider Your Motivations
It is also important that you reflect on your motivations. Do you want a career with high-paying roles, or do you want a career where you get to travel or take care of animals or people?
Is a career path with lots of flexibility more important than one that offers better career growth? How do you feel about the various benefits that come with jobs?
Of course, there is no such thing as the perfect job, but knowing your motivations will help you get as close to that kind of career as you possibly can.
Determine Your Long-Term Goals
The next consideration that will help you know how to decide what career path to take is thinking about the long-term goals you have. What does your perfect life look like? Do you want to become a CEO and own a big, fancy house?
Or do you want to be given free rein so you can spend your time outdoors and chasing breaking news stories?
Where do you want to see yourself in 10 years, 20 years, and when it's time to retire? Think about these goals before you decide on a career.
Take Different Self-Assessment Tests
You can take tests that will evaluate aspects of yourself to determine what career would be best for you. From your personality to your weaknesses and strengths — measuring these elements can help you find job roles that will be a good fit.
These tests and their results aren't to be taken as gospel, but they can help you make a better decision.
Explore Different Industries
Before you can even consider that you are well-informed and know all there is to know about how to decide what career path to take, you need to take a closer look at the different industries out there.
Make a list of all the careers you're interested in, and research just how their respective industries work and what you'll have to do to advance in every career.
Write a Career Action Plan
Finally, it is suggested that you make a career action plan with all the steps that you will need to take to reach your chosen goals. It will be a road map of sorts that will clearly indicate how you will achieve the goals you've chosen.
You should include all kinds of information such as what you will have to study, the skills you'll need to master, the obstacles that may get in your way, and every step you need to take along the way.
Have ways of dealing with predicted obstacles and alternatives in case you need to improvise. When you know what difficulties to expect and how to prepare for them, you'll have an easier time achieving your career goals.
Now that you've been given all this advice and know how to decide what career path to take, let's discuss some of the most popular and interesting careers that you can choose from.
Attorney
If you are passionate about the law and anything related to courthouses, you can become an attorney or lawyer. There isn't a difference between attorneys and lawyers; they're just called different things depending on where in the world you live.
Attorneys make good money but have to study for many years, so prepare yourself for that. It can take up to seven years to become a lawyer.
Mechanic
Becoming a mechanic may not sound like an interesting career path unless you're passionate about cars. If you love fixing cars and making them better than before, you can join an auto parts repair service and work with cars every day!
Don't underestimate the career of a mechanic — it can be very fulfilling and fun if that's what you're interested in.
Security Guard
Although being a security guard can be quite dangerous, it can be an exciting job if you work for the right company. Completing the relevant training and joining an armed security service will see you acting as a protector for many people or important buildings.
Refuse Collector
When you sit down and think about how to decide what career path to take, working for a garbage disposal service may not be the first thing to come to mind. Working as a refuse collector promises good job stability and a decent salary. The training periods are short and relatively inexpensive too.
Dentist or Dental Hygienist
Dentists may be feared by many children all over the world, but they're necessary for healthy smiles. If you want to become a dentist, you will have to dedicate up to eight years to study, but the job benefits include a good, steady income, and you'll have good dental options too!
You can also think about becoming a dental hygienist, which takes about four years to achieve.
Chef
Do you enjoy spending time in the kitchen or outside in front of the BBQ grill? Why not become a chef? You will get to cook for people and earn good money at the same time.
People with a passion for food find that becoming a chef is a lot of fun and a good career with many benefits.
Exterminator
Do you know all about pest control and getting rid of bugs that people are afraid of? Do you think you'll be good at things like bee & wasp removal? Then you should definitely consider becoming an exterminator. You need to be rather fearless for this kind of career, though.
Roofing Contractor
Following a career in the construction industry is a popular choice for folks who enjoy manual labor. There are many options to choose from, and you can even try out different roles while working for construction companies. You can consider working as a roofer, for example.
Doctor or Nurse
When it comes to giving advice about how to decide what career path to take, recommending that those who enjoy taking care of others become a doctor or a nurse should go without saying. You can take on a nursing job if being a doctor isn't for you, or if you prefer to have more contact with patients.
Graphic Designer
If you want to work as an artist but don't think you can be a painter or art consultant, why not consider becoming a graphic designer? These people have a more technical job but can still be very creative and have fun. You can design books, magazines, and even advertisements.
Home Health and Personal Care Aide
This is a very important career because there will always be people who need to be taken care of professionally and with love. This is a truly meaningful career, and if you like the idea of caring for sick or elderly people, you'll love how fulfilling this work can be.
Software Developer QA Analyst
If you dream of working remotely and traveling the world, you should consider becoming a software developer QA (Quality Assurance) analyst. You will have to find bugs in apps and take care of similar tasks, and you can do it in the comfort of your home or a hotel room on a tropical island!
Medical and Health Services Manager
If you want a high-paying job in the medical industry but don't like the idea of being a doctor or nurse, you should aim to become a Medical and Health Services Manager. You won't be working with sick people, and you'll be in charge of the business activities of healthcare providers.
Animal Caretaker
Do you love animals and want to spend all your days taking care of them but don't want to become a veterinarian? Then you should absolutely consider becoming an animal caretaker. You won't earn as much money as a vet, but you'll be able to work for yourself and enjoy a flexible career.
Data Scientist
Data is here to stay, and if you like the idea of working with data, you will enjoy a career as a data scientist. Not only will you get a nice salary every month, but you can also expect to have career stability because this industry is considered future-proof.
Machine Learning Engineer
This is an industry that has seen impressive growth in recent years and it's expected to become even more popular. If you're interested in machine learning, you can become a machine learning engineer and work with AI every day of your career.
Marketing Analyst
Marketing analysts have to analyze data of markets or campaigns and come up with valuable insights. It is a very popular job and one that is expected to be in big demand in 2023, so if you like data, you will love this career.
Network Security
If you've been inspired by hacker movies and want to know how to decide what career path to take that will be as interesting as hacking but won't break the law, you should think about network security. Cybercrimes remain a big issue and you can help protect people against this kind of criminal.
Project Manager
Project managers are important and bring a lot of value to all kinds of companies. You will have to ensure that the company's resources are used efficiently, making it the ideal job if you're a perfectionist who can lead teams.
Human Resources
Companies cannot exist without human resources, and if you think you have the right skills for a role in this kind of career, it's one that's always in demand and pays pretty well. You'll need to have really good communication and problem-solving skills for this type of work.
Blockchain Engineer
The market size for blockchain technology is expected to grow a lot in the coming years, and there will be many opportunities for career-building. If this is something that interests you, consider becoming a blockchain engineer so you'll always be part of this technology.
Financial Manager
The last career to discuss on the topic of how to decide what career path to take — but certainly not the least important one — is the role of a financial manager. If the idea of managing investment portfolios for companies excites you, this is the perfect career for you.
Find Your Dream Career
Now that you know how to decide what career path to take, you can sit down and digest all the information shared here. What are your motivations? What are your passions? When you think about the career(s) you're considering, how do you feel? Can you see yourself still following this career path in 10 years? The honest answers to these questions can help you make the right decision. Good luck!